ACT
---
All interested riders are invited to a Unicycle Hockey Day in Canberra on Sunday July 15th. 11am - 5pm.
This will be a day of friendly matches and hockey fun - it's not a competition for any titles! All riders are welcome - you can join a team on the day if you don't have any friends to bring along...
It will be held at:
Tuggeranong Basketball Stadium
Crn Athllon Dr & Cowlishaw St
Tuggeranong ACT
(The same hall as was used for Uninats 2010)
The day is free - all are welcome as guests of ACTURS who are covering the costs.
More details at the ACTURS information page.
If you have any questions, contact balance-ent [at] hotmail [dot] com (Nic Vevers) (Canberra) or chickenloaf_au [at] yahoo [dot] com (Ashley Curtis) (Sydney).
This is an AUS event - you need to be an AUS member or temporary member to ride. You can join on the day.
The full Uninats 2010 Program of Events is now available as a PDF.
The program has all the venue information, maps, timetables and other information you need to find your way around and enjoy Uninats 2010.
You can print your own colour copy, or pick up a black & white one at the registration desk on arrival.
The Uninats Masked Unicycle Party will be held on Saturday night at the Tuggeranong Stadium (after all the daytime events).
Entry is free for all registered participants, and there will be music, lots of unicycle games and dinner whilst we watch the Video competition.
We will be ordering in a Turkish buffet from Turkish Pide House (they are really good - menu below), or you are welcome to bring your own food & drink instead.
The buffet will cost $17 per person ($10 for 12 and unders) for more than you can possibly eat and includes soft drinks. If you would like the buffet, you must book and pay for the food by 3pm on Saturday at the reception desk.
The theme for the party is 'Masquerade' - you can interpret this however you like - masks, goggles, uni-helmets, face-paint or perhaps a big wig? As long as you can still play red-rover, sumo, dodge ball and gladiators!
Over 18's can BYO alcoholic drinks as long as they are consumed responsibly.
--
Turkish Menu:
A selection of dips (Beetroot, Carrot, Chilli, Eggplant, Humus and Cucumber)
Freshly baked Turkish bread
Zucchini Puffs served with yoghurt and dill dressing
Vegetarian Turkish Pide (pizza)
Meat Turkish Pide (pizza)
Chicken & Lamb kebabs
Kofte (Turkish style meatballs cooked in a special tomato sauce)
Vegetarian main
Rice
Salad
Non alcoholic Drinks
Accommodation Options
Please note that Floriade will be on at the same time, so book early and double check the price as the quoted prices may change.
Roller Derby performance opportunity: The ACT unicycle riders group, ACTURS has been offered an awesome opportunity to put on a show at half time of the Roller Derby on the evening of Saturday 29 May. Audience numbers are expected to reach 1000 people as the match is sold out, so ACTURS are keen to put on a great performance and really raise the profile of unicycling in the ACT. The theme is Mad Stax: Beyond the Hyperdome, so riders will be performing to a Mad Max music soundtrack.
Rehearsal 1: The usual ACTURS Wednesday evening session is cancelled this week as the school has a function on but riders can use Canberra High school for a performance planning and practice session, this Saturday sometime between mid morning and mid afternoon for 1.5 hours (time to be confirmed).
Rehearsal 2: Riders will be rehearsing at ACTURS usual session at Canberra High School between 7:00-8:30pm on Wednesday 26th May.
You will need to make it to at least one rehearsal session and preferably both.
Head to Canberra this Easter for the Australian Mountain Unicycling Weekend 2010, organised by Mark Lavis. The program at this stage is as follows:
2nd April
5pm onwards - meet and greet BBQ (BYO) at 52 Williams St, Watson (for those that arrive earlier in the day, a casual ride at Mt Majura will be organised).
3rd April
9.00 start @ Mt Stromlo.
7.30pm - Mt Stromlo - Night time ride - BYO lights and gear.
4th April
9.00am start Mt Stromlo.
Afternoon - Awards handed out at Mt Stromlo and weekend close. (Riders rider competition sponsored by Unicycle Online)
Night- Possibility of a social event in Canberra Civic for riders. Open to suggestions here.
Please note: All riders for the weekend need to be current members of the AUS for insurance reasons. Fill in the membership form, or renew online if your existing membership has expired.
Organisers are looking for T-shirt designs for the event so if you have any creative flair, Mark needs to hear from you.
Please contact Mark if you plan to participate so that he can make appropriate arrangements with the Mt Stromlo administrators. Interested parties are more than welcome to contact him for further information or to pass on ideas to this email address.
Contact: Mark Lavis - m [dot] p [dot] lavis [at] gmail [dot] com or (if you are stuck/lost), call on 0403048631
By Rod Lambert, ACTURS club president
Congratulations to Canberra riders on a very successful year in 2009. The club had a lot of new riders in 2009 who have all done very well while experienced riders have continued to learn new skills as well. Unicycle hockey continues to be very popular each week and sometimes it has been a tight fit in the school hall. The younger riders have learnt to do "thread the needle" with a nice turn of speed and can now include it in their routine at displays.
ACTURS gave displays at Floriade and the Canberra Multicultural Festival in 2009, as well as a number of fetes. Highlights for the year included club members competing at the Asia Pacific Unicycling Championships in Hong Kong, the Revesby weekend and at Unicon XV in New Zealand.
Congratulations to the 2009 Club award winners:
Mai Liney - Best 1st year girl rider
Lauren Van Oosten - Most improved girl rider
Darcy Matthews-Nally - Best 1st year boy rider
Koh Bouckaert - Best Male Rider
Karl Denton - Best Senior rider
Rob Armstrong - Club Member of the Year
Photo: Mai and Lauren with their certificates from Rod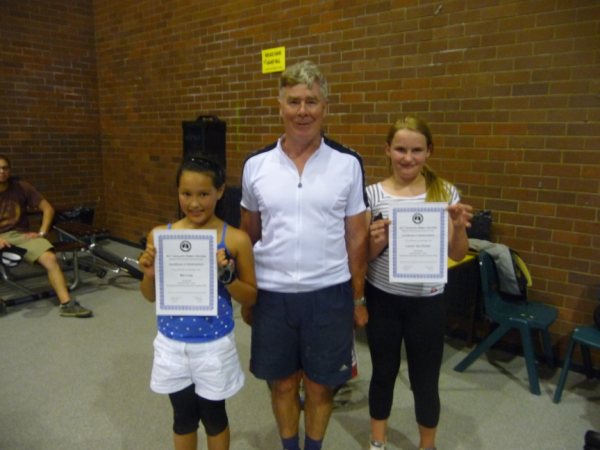 If you are in the Australian Capital Territory and want to link in with local unicyclists, check out the new website for ACTURS (ACT Unicycle Riders Society): http://www.unicycling-act.org.au/